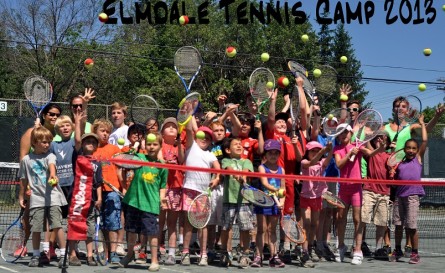 Ages: 6-12 (must be 6 by the end of the calendar year, not necessarily the start of camp)
1/2 Day Mornings: 9:00 a.m. to 12:15 p.m. with drop off starting @ 8:45 p.m.
1/2 Day Afternoons: 12:45 p.m to 4:00 p.m. with pick-up ending at 4:15 p.m.
Pre & after care is available from 8-9 a.m. and 4-5 p.m
Cost:
$130 /half day
$210 /full day (after you select both AM & PM for the same week, the discount will be applied on the following page)
$25  for pre and/or after care per week
1.5 hours of tennis instruction per 1/2 day – 3 hours per day
1:7 instructor/player ratio
Multisport off-court activities
BBQ on Fridays
Camp Co-ordinator
Our camp staff will be led by Bill Dwyer , an individual with a teaching degree and camp experience
ETC Camp Refund Policy
If a request for a full refund to withdraw from the Elmdale Tennis Camp is presented more than 7 days prior to the start date of the camp then a full refund will be given.  If less than a week's notice is given, then each case will be handled individually.  The ETC is committed to providing a 7:1 or lower counsellor/camper ratio.  Consequently, the decision to provide a full refund with less than 7 days notice will depend, in part (there may be other factors), on the cost of the club to engage staff to maintain this ratio on a weekly basis.
The club is committed to actioning refunds as quickly as possible.
Weather
If there is rain during the week which stops campers from getting out on the courts, the camp still happens and the campers will be given a 'guest pass' to use to come play for free at a later date.  There are no refunds because of rain.